Aquatic Surveys
MERCs capacity for conducting aquatic surveys has expanded in recent years to cover the bathymetric surveys of in excess of 180 Irish freshwater lakes. Using state of the art sonar and video equipment (drop down and diver operated) we have the capacity and experience to undertake a range of aquatic surveys including the measurement of physiochemical parameters, identification of Alien Invasive Species (IAS), detailed mapping and identification of freshwater vegetation and bathymetric surveys.
Our dedicated commercial scientific dive team provides additional support for the survey of freshwater habitats.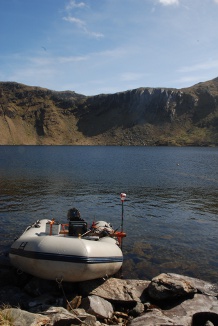 Photographic imagery in macro, wide angle, zoom and flash are catered for, in both standard 35mm film and digital formats.